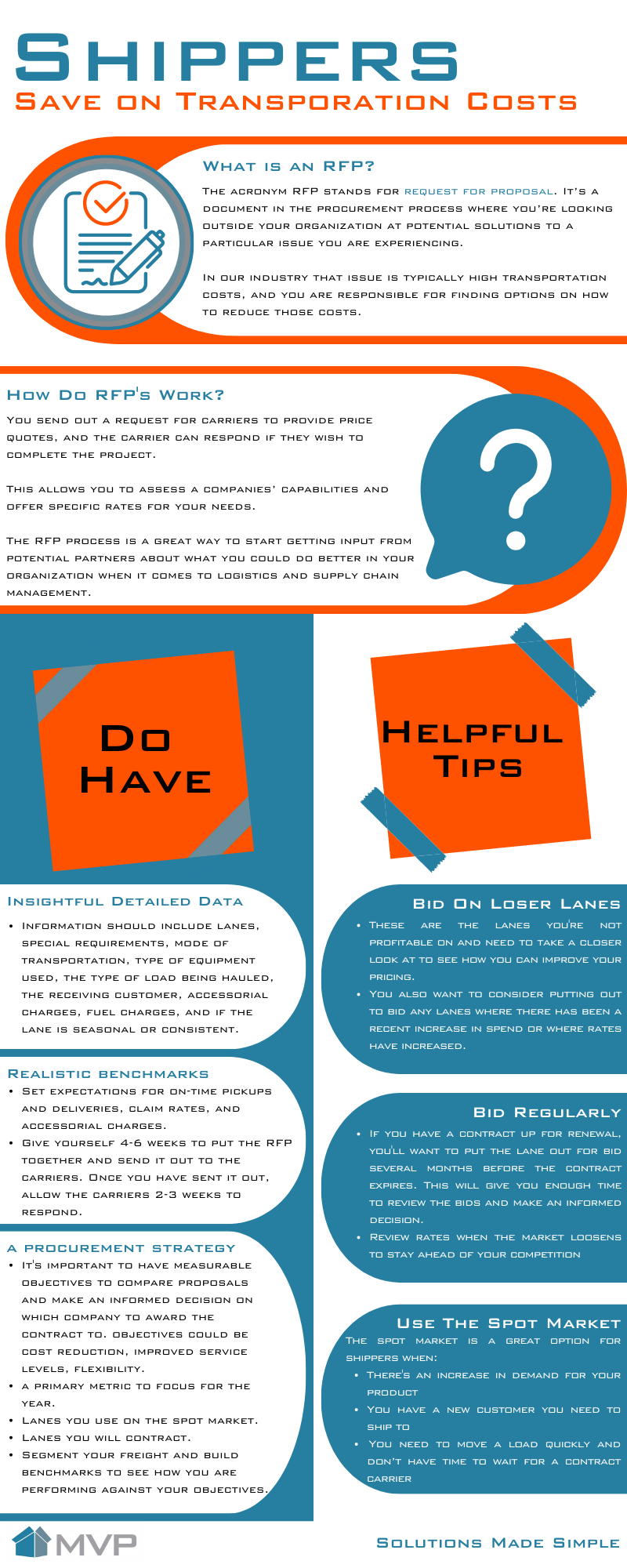 Submitting a request for proposal (RFP) is an important part of finding the right transportation partner.  
However, making mistakes when drafting your RFP can cost you time and money.  
In this blog post, we'll discuss some of the most common RFP mistakes and how to avoid them.  
What is an RFP?
Have you ever been in a bidding contest before? 
There are many similarities between an RFP and a reverse auction. 
There's an auctioneer. 
There are buyers. 
Only with an RFP the company acts as the auctioneer, and potential vendors are bidding to compete for potential projects they hope to win from the company. 
The acronym RFP stands for request for proposal. It's a document in the procurement process where you're looking outside your organization at potential solutions to a particular issue you are experiencing.  
In our industry that issue is typically high transportation costs, and you are responsible for finding options on how to reduce those costs. 
You send out a request for carriers to provide price quotes, and the carrier can respond if they wish to complete the project. 
This allows you to assess a companies' capabilities and offer specific rates for your needs.  
The RFP process is a great way to start getting input from potential partners about what you could do better in your organization when it comes to logistics and supply chain management. 
How Do You Make a Bid for Transportation Services?
Let's get this out there right away – there is no standard process for transport bids, but there are certainly several things you should not do if you wish to find accurate and valuable responses from your potential partners. 
Here are some of the most common mistakes made when writing an RFP.  
Don't Have – Inaccurate or Lack of Data
What good is an objective if it's based on inaccurate information?  
If there are any discrepancies between what is happening at your company and what is represented in the RFP, it will only create more work for you down the road as you must explain these discrepancies to each individual carrier. 
Do Have – Insightful Detailed Data
To have an effective RFP, it must be based on thoughtful and accurate data that is reviewed by people who understand your business. 
Carriers are looking for shippers who have a clear understanding of their current shipping patterns, costs, and specific needs. 
This allows the carriers to provide more accurate proposals that will address your specific needs.  
When it comes to data you should: 
Have at least a years' worth of complete clean data to work with

Use your data at the load level to clearly understand what is driving up costs

Your data should include information about your lanes, mode of transportation, type of equipment used, special requirements, the type of load being hauled, the receiving customer, accessorial charges, fuel charges, and if the lane is seasonal or consistent

Forecast future volumes

Ensure you are on par with the market when it comes to what you are offering for payment terms, fuel costs, insurance, and accessorial charges – take into consideration that if you ask for 90-day terms it will show up in the cost from the carrier
Don't Have: No Benchmarks for Performance
Your RFP should include performance benchmarks for on-time pickups, on-time deliveries, claims rate, and accessorial charges.  
If you do not have these benchmarks, how will you know if the carrier is performing to your expectations? 
Do Have: Benchmarks That Are Realistic and Attainable
Be clear about your expectations for on-time pickups and deliveries, claim rates, and accessorial charges

Performance benchmarks should be realistic and something that the carrier feels they can honestly meet

Make sure the source of your benchmark is independent and does not have skin in the game. Reputable sources include DAT Index, Steven's Index, PPI Index, Class I

Keep in mind that the carrier is only as good as the information they are given, so if your data is inaccurate, so will the benchmarks be

Don't forget to include a ramp-up period in your RFP for the carrier to get accustomed to your operation

When creating a timeline for the RFP process, it is important to give yourself and the carriers enough time to put together a quality proposal.

A reasonable timeline would be to give yourself 4 to 6 weeks to put the RFP together and send it out to the carriers. Once you have sent it out you should allow the carriers 2 to 3 weeks to respond.
Don't Have: Unclear Objectives
When transportation buyers issue an RFP, they generally have a good idea of what they are looking for in a transportation provider.  
Transportation providers, on the other hand, sometimes do not have such a clear understanding. As a result, the proposals that transportation providers submit can be vague and unfocused. 
To avoid this mistake, it is important that transportation providers take the time to understand the specific objectives of the RFP.  
In 2021, capacity was an issue and being choosy about your partnerships wasn't something offered up to most companies.  
Many companies lived and died by the spot market. 
The main objective was to ensure the number of missed shipments was as minimal as possible. Keeping costs low was simply a bonus. 
Take the opportunity to optimize relationships with carriers to see you have the right partner when it comes to ensuring your quality score for OTIF and MABD remains in good standing, that the service you receive from the carrier is of good quality, and that you have a solid risk management strategy in place with your carrier. 
Do Have: Clear and Realistic Objectives
When setting objectives for your transportation RFP, it is important to make sure they are clear and realistic.  
Unclear objectives can lead to confusion and frustration for both transportation buyers and providers. Realistic objectives, on the other hand, will help to ensure the RFP process is successful. 
Some things you'll want to consider when setting objectives for your transportation RFP include: 
The primary goal of the RFP

Your primary metric to focus on for the year

How you use the spot market when it comes to exceptions

Lanes you will contract

Lanes you use on the spot market

Specific criteria transportation providers must meet to be considered

Timeline for the RFP process

How many transportation providers do you need to consider

Use your data to segment your freight and build benchmarks to see how you are performing against your objectives.

Set clear expectations with your transportation providers in terms of quality, service levels, and cost. Doing so will help to ensure you are able to find the right transportation provider for your needs
Do Have: Objectives That Line Up With Your Procurement Strategy
It is important your objectives for the RFP align with your procurement strategy. Your transportation procurement strategy should be tailored to your company's specific needs and goals. It is important to have measurable objectives so you can compare proposals and make an informed decision on which company to award the contract to. 
Some objectives you may want to consider for your transportation RFP include: 
Cost reduction

Improved service levels

Increased asset utilization

Flexibility

On-time delivery

Freight spends as a percentage of total company spend

Mode of transportation

What lanes to put out to bid and what lanes to take to the spot market

Alternative backup carriers for issues that arise

Lanes out of market range
Don't Have: Lack of Clear Communication
When it comes to writing an RFP, clarity is key. You want to make sure you're as clear as possible in your instructions and requirements, so there is no confusion on the part of the bidders. Be specific about what you're looking for and be sure to include any deadlines or other important information. 
Do Have: Clear Communication
Are you giving carriers enough information to set them up for success? You need to give the carrier all the relevant information to make a logical and accurate bid. 
In your RFP communication you should be including: 
 Copies of contracts

Copies of assessorial charges

Transportation lanes

Volume by lane

Freight type

Commodity

HAZMAT class

Number of pallets per load

Average length of haul

Loading and unloading requirements

Insurance requirements

Hours of operation for both the shipper and consignee

Shipments per week or month by lane

Transportation Management System (TMS) requirements

Dates: bid open, close, award, and start date

Consider hosting a carrier conference where you can meet with all your potential carriers to discuss the project and answer any questions. This can be held virtually or in person

There is a cost associated with change. How much that cost may be is heavily dependent on the risk associated with a new carrier. Ensure you have a plan in place to set your non-incumbents up for success.

Have one point of contact that is responsible for responding to the carrier with any potential questions that may arise during the bidding process
What Lanes Should I Put Out to Bid During an RFP Process
The best place to start is on loser lanes. These are the lanes you are not profitable on and need to take a closer look at to see how you can improve your pricing. 
You also want to consider putting out to bid any lanes where there has been a recent increase in spend or where rates have increased.  
You may consider breaking your lanes out into two categories: 
Core Lanes:

These are the lanes you ship on a regular basis and have a good understanding of your freight volumes. Put all your core lanes out to bid.

Non-Core or Sporadic Lanes:

These lanes are not shipped on a regular basis, and you may have less knowledge of your freight volumes. You may want to put out a smaller subset of these lanes to bid or use the spot market for these lanes.
How Often Should I Put a Lane Out to Bid
Consider the factors that will help you determine how often to put lanes out for bidding.  These include your company's contract terms, freight volumes, profitability goals, and the current market conditions. 
You will also want to consider how often your rates change and if you are using the spot market for any of your lanes. 
If you have a contract that is up for renewal, you will want to put the lane out for bid several months before the contract expires. This will give you enough time to review the bids and make an informed decision. 
Keep your current carriers honest by putting lanes out to bid regularly

Maintain a good relationship with your incumbents by giving them a fair shake before taking it out to market

Continuously watch the market to ensure you're getting the best rates

Refresh your rates when the market loosens to stay ahead of your competition

Have an external benchmark to give you a good understanding of when you should take your rates out to bid
How D
o You Develop a Negotiation Strategy
Negotiation is a vital part of business, and you should consider the needs, objectives, budget, and resources that will be available for this process.  
You also need to ensure you have the buy-in of your key stakeholders from ground-zero. This includes getting the approval from the individuals who will be responsible for approving the final contract.  
When you are negotiating with carriers, there are a few things you should keep in mind.  
Where is there area for comprise and what must remain set in stone?

Understand the current market conditions and trends to identify a fair rate

How much can you afford to pay for the services you are requesting?

The length of the contract

Payment terms
What Criteria Do You Use to Score and Compare Bids
Start by looking at two different scenarios: one where nothing changes and one where there is the most amount of change possible. Look at what the cost would be for each scenario. 
Build additional scenarios between those two extremes.  
When you are reviewing bids from carriers, you will want to score and compare them based on a variety of factors that are important to your company. 
Some of the criteria you may want to consider include: 
The rates being offered

Length of the contract

The payment terms

The carrier's reputation

The customer service of the carrier

Capacity and availability of the services offered
Share the results of the scenarios with the key stakeholders. Ensure you receive feedback from them on what scenarios are realistic possibilities. 
Question the way things are currently done and encourage taking risks.  
The final decision should be something that can be done and that the people responsible for doing it approve of. 
When Should I Use the Spot Market
Spot market pricing is not only an option for cyclical drivers, but also a way to take advantage of capacity when it loosens and then becomes tight again. This is when there are more trucks than loads.  
The spot market is a great option for shippers when: 
There is an increase in demand for your product

You have a new customer that you need to ship to

 You need to move a load quickly and don't have time to wait for a contract carrier
When using the spot market, you need to take into consideration: 
Rates on the spot market can fluctuate greatly. Rates you pay today could be different than the rate you pay tomorrow.

The spot market is unpredictable. There is no guarantee you will find a carrier when you need one.

There is a degree of risk in using the spot market, such as working with an unfamiliar carrier, missed shipments, etc. 
How Can I Find New Carriers to Add to My Network
There are a few different ways you can find new carriers to add to your network.  
One way is to attend trade shows and conferences. This is a great way to meet new carriers and learn about the services they offer.  
Another way is to search online. There are several websites that list carriers and the services they offer.  
You can also ask other shippers for recommendations. This is a great way to get first-hand information about carriers.  
Finally, you can use a freight broker. A freight broker matches shippers with carriers. They can provide you with information about carriers that meet your specific shipping needs. 
Now a moment to stand on our soap box.
MVP Logistics is a full service 3PL supply chain management company focused on customer success through supply chain solutions made simple. 
We ship freight – a lot of it. 
Interested in speaking with our team about your freight shipping needs? Reach out to us today.